Podcast about Morning Routines.
In Habithon's first-ever podcast episode, we discuss thoughts and experiences about our morning routines.
How to craft an awesome morning routine and win the most important time of the day.
We discuss everything from mindsets to different morning activities, and we share useful tips & tricks so you can have the best morning routines and wake up early.
Find out more about Morning Routines in our article – Amazing Morning Routine in 3 Simple Steps.
Re-edited: 2020-09-12
Check this out!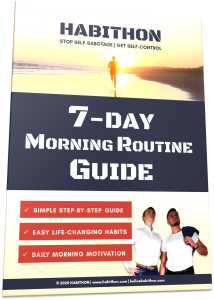 Get the 7-Day Morning Routine Guide
Help us grow this podcast and Support the Show!
Big or small doesn't matter, you will be mentioned in the podcast 😉
The following two tabs change content below.
Gustav
Hey guys! My name is Gustav and I'm a habit fanatic. Through good habits, I was transformed from a confused young man to finding my true passions and living a life I'm proud of. My favorite habits are waking up at 5 am, cold showering, and journaling. I hope to inspire you to implement the habits, mindsets and beliefs that will fuel your life for the better!