This article may contain affiliate links to products that we recommend to help our readers achieve their goals! If you purchase through our partner links, we will receive a commission at no extra cost to you. Read more in our Terms & Conditions.
You need rules to be on time if the following situation sounds like you:
"Ahhh shit, not again?!"
The alarm clock is arrogantly displaying 07:53 which leaves me exactly 7 minutes to get ready and get out of my apartment.
This is what hitting the snooze button twenty-seven times does to your life. Why did I watch all those nonsense YouTubers last night? 
The train is leaving at 08:09. It won't wait for me. Still, I'm convincing myself that the train will be late. I have plenty of time for one quick mobile game, mirror studies, and feed swallowing.
Shit, I missed the train. Again. Another day, another case of time abuse. Why did I have to squeeze in a bunch of waste before leaving when I was already late?
If so, read on carefully. Here are 6 rules for you to be on time and never be late again.
1. If you're not early, you're late
Let's say you have a meeting at 8.
Having 8 as your time-target will probably lead to you coming in just in time or more likely a few minutes late, out of breath, and sweating like a pig.
You should change this time-target to 10 or 15 minutes earlier than your original target, depending on how much of a time optimist you are.
Be strict about this. Always schedule the start-time of your meetings or activities BEFORE they begin.
2. Schedule everything
And I mean everything. Keep track of the time you spend commuting, emailing, working, eating, exercising, hanging out with friends, watching sitcoms. Everything.
You can do this using a memo on your phone, a calendar, a diary, or a time-tracking app.
Do this for a week to create an overview of what your daily deeds cost you timewise.
You can then start to schedule your days to the minute, knowing exactly how much time you have to spend on each activity without compromising them. This prevents unrealistic bookings and time conflicts that increase the risk of you being late.
When you have a clear picture of the time you spend, you know what you have time for and what you don't.
3. If late, always apologize
If you against all odds do show up late to a meeting, lecture, exercise group, coffee date, or whatever, take the time to apologize properly.
Don't just say "Sorry for being late" and carry on as if nothing has happened. Instead, say as you come or at the end "I'm ashamed for not showing up on time. I have no excuses. This will not be repeated."
Resist the temptation of making excuses such as heavy traffic or a broken coffee brewer, even if you rightfully could. This will only justify your late comings.
Unless it's super rare that you are late (which most likely isn't the case since you're reading this post), allow yourself to feel the guilt of being late.
This can be hard and a bit shameful, but unless you apologize properly you will feel no pain of being late and thus be motivated to keep up this disrespectful behavior.
Link the pain of being late to something that will motivate you to show up on time, and preferably well in advance.
4. Treat everything as equally important
Not everything in life is equally important. Not everything feels equally fun or engaging to partake in.
Showing up late to a short minor meeting or a tedious family dinner might feel more justified than being late to that awesome workout group or exciting first date. The reason is that the former examples feel less important than the latter ones.
You have to change your mentality towards bookings which you don't like. This might feel a bit counterintuitive, of course, we are more inclined to prioritize what feels important and rightfully so.
Life is all about prioritizing the right things to get the most out of it.
However, you can't say no to everything that doesn't feel super exciting and urgent.
To stop being late means to stop diminishing the meetings, dates, and get-togethers that don't intrigue you upfront. This is also a way of showing respect to the people you meet.
By showing that you respect the time you indirectly show them respect and that will lead to them also respecting you for respecting that time. RESPECT! Try it out. Treat everything in your schedule as equally important and notice the difference!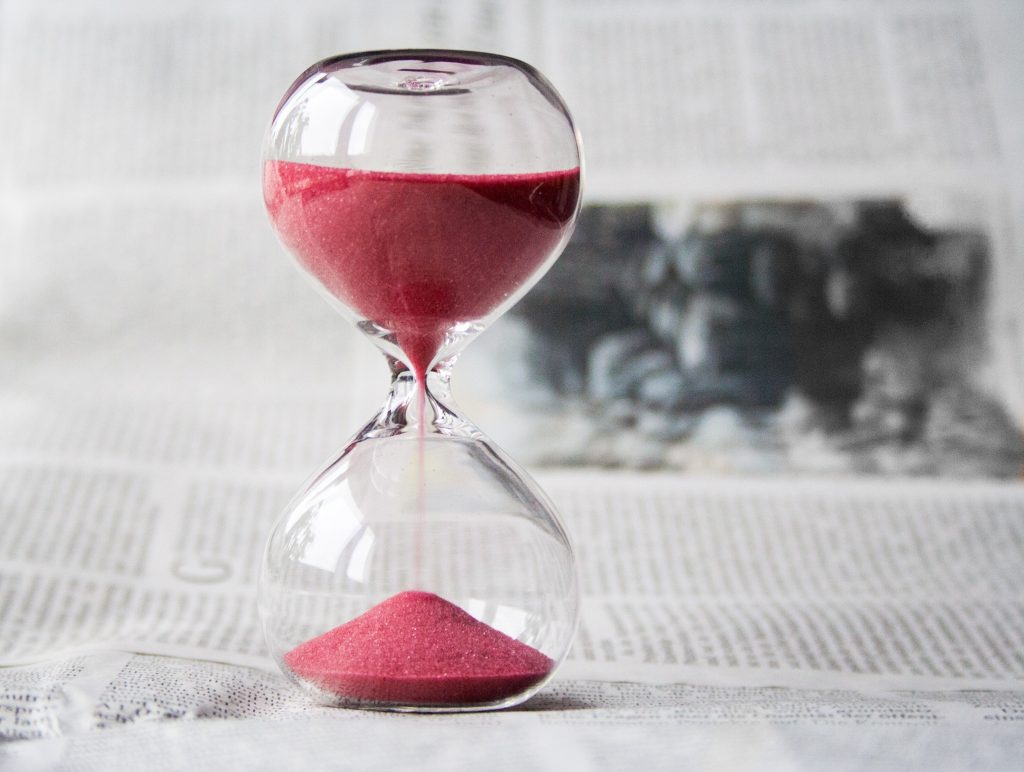 5. Live 5 minutes in the future
One super easy hack you should start implementing right away is to set all of your watches 5 minutes earlier than the actual time.
By doing this you will create the concept of always being ahead of your schedule and thus reduce the risk of showing up just in time or a few minutes late.
It's important to set ALL of your watches to 5 minutes earlier to avoid confusion and keep this conception solid.
Your wristwatch, wall clock, and the clock on your phone and computer should all be synchronized and display the same time – 5 minutes in the future.
6. No "squeezing"
From all the rules to be on time, this is the most important rule and probably the number one reason you are being late.
You have 8 minutes before you have to leave and you start finding small things to squeeze in, just to feel productive.
"I could easily check some quick emails, browse my newsfeed and social media, or call my friend about our plans for the weekend". Suddenly 10 minutes have passed and you are on the road to being late as usual.
Stop trying to squeeze in just one more thing. Just stop. Take the 8 minutes as a treat to relax and get going at a slower and more calm pace. This will do wonders for your well-being.
As soon as you feel the urge to squeeze, simply take three deep breaths and leave. Avoid the squeezing-trap, feel better, and be on time, every time.
And lastly…
So there you have it, 6 rules to be on time and never be late again. We hope you will try at least some of them right away!
Feel free to leave us a comment about your late comings, time abuses, and lovely procrastinations. We would love to hear about how you waste your time most creatively!
I was one week late with posting this…

Your Bruddy, André
The following two tabs change content below.
André
Hey fellow habit-lovers! My name is André, former procrastinator and day-dreamer turned habit and personal development enthusiast. Here at Habithon, we believe that good habits make up a good life. My favorite habits are journaling, cold showers, and power-naps! My wish is for you to get inspired and start your own journey towards better habits and a better lifestyle.